Contact us - We'd love to hear from you!
Email:
If you have any questions or wish to be added to the MLDC mailing list, please click on the link below to email Lori Jablonski, Director of Operations.
Writing:
MLDC's Mailing Address:
Miki Liszt Dance Company
1922 Greenbrier Drive
Charlottesville, VA 22901
Telephone: 434.973.3744

---
Support the Company - Become a Partner!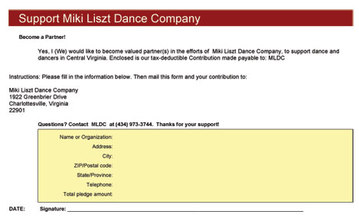 ---